JPM Does Not Expect Big Month-End Pension Selling Today
Unlike last quarter, when JPMorgan warned of up to $316BN in forced, month and quarter-end pension rebalance selling (which incidentally never materialized), this time around – now that we are at April month-end and some traders are worried that we may see a similar (if scaled down as it is just month, not quarter end) forced rebalance out of stocks and into bonds – JPMorgan sees no such threats.
In a month discussing the month-end rebalance, JPM writes that unlike March (and Q) equities have outperformed bonds by just 4% MTD, so based on the bank's calculations there is just 50-75bps of equity underperformance into month-end due to pension rebalances, all else equak. So, according to JPM, "the rebalance flows are not expected to be big, they can be easily enough offset by fundamental buyers on reopening/earnings, and part of the rebalance is likely already out of the way (e.g. they may have contributed to the market weakness on Thursday morning)."
While month-end selling may not be an issue this time, another more troubling dynamic has emerged, one which we previewed two weeks ago when we wrote that "Q1 Earnings Will Be Stellar, But Are Fully Priced-In." Confirming this, JPMorgan writes that companies which beat their EPS estimates – with 55% of companies reporting Q2 numbers, 85% have beat earnings and 78% beat revenue estimates – are seeing their stocks fall, on average, 30bps while companies that miss EPS estimates are seeing their stocks tumble 2%!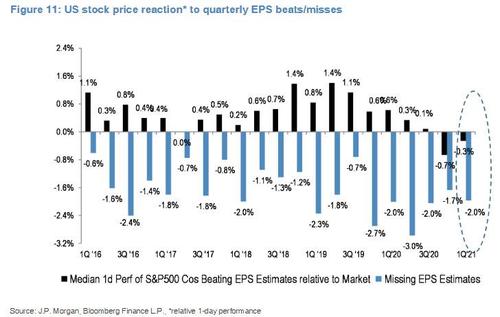 One can see that very clearly in AAPL's recent earnings report which beat every metric and whisper number by a consider margin and increases its buyback by $90BN; yet the stock finished Thursday flat in a positive Tech tape and trhen slumped more on Friday.
As JPM observes, the strong, and improving, macro environment is filtering into earnings "and companies are not being rewarded", which is hardly a surprise since all of the upside was already priced in heading into earnings. If we see NFP next Friday, JPM asks, does that give markets the boost that they are looking for?
Probably not, but the real question is with buybacks accelerating  – something else we discussed earlier this week now that 2021 is on pace to be a record breaking quarter for sotck buybacks…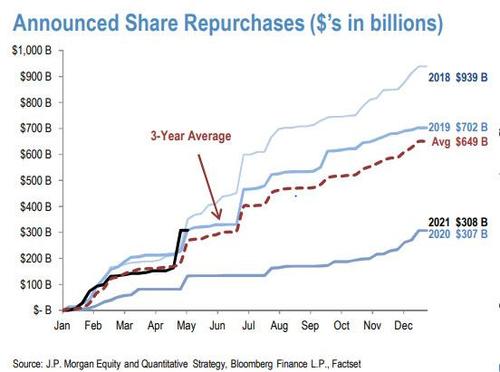 … can corporate demand act as the incremental buyer if institutional investors pullback on their activity into the summer?
If 2018 and 2019 are any indication, the answer is a resounding yes.
Tyler Durden
Fri, 04/30/2021 – 12:10