Rock-Solid 2Y Auction Eases Concerns Ahead Of Upcoming 7-Year Offering
While everyone's attention remains focused on Thursday's 7Y auction as this was the very auction last month which sparked the rout in the bond market after catastrophic lack of demand almost led to a failed auction, moments ago the Treasury sold its first coupon auction for the week in the form of $60BN in 2y paper, matching the highest auction size on record.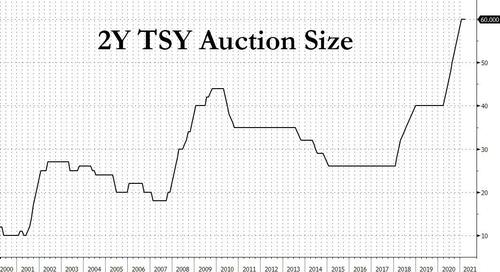 The auction was solid, if not spectacular, but certainly not a disaster.
The high yield of 0.152% printed on the screws with the 0.152% When Issued, and was about 3bps higher than the 0.119% high yield in February; it was also the highest since Nov 2020. In any case, there was not even a trace of the ruinous tail we observed one month ago in the 7Y auction, which then sparked weeks of bond – and stock – market turmoil.
The Bid to Cover of 2.542 was mediocre, above last month's 2.439 but below the recent average of 2.52.
The internals were also solid: Indirects took down 50.7%, below last month's 57.3% and slightly below the six-auction average of 52.4%. And since Directs bounced, rising from 12.01% to 17.58%, the highest since April 2020, Dealers were left holding 31.7% of the auction, just below the recent average of 32.6%.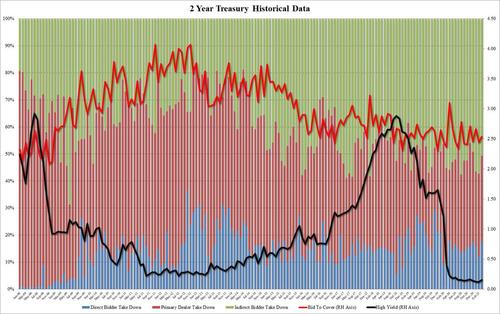 Overall, a solid auction and one which indicates that this week's 5Y and 7Y auctions will be a walk in the park compared to what happened one month ago this week.
Tyler Durden
Tue, 03/23/2021 – 13:18