Merkel Demands Putin Reduce Russian Troops Near Ukraine In Phone Call
It seems only in the case of Russia that Western leaders presume to lecture a large sovereign country on where it can station its troops within its own borders. It's primarily these "concerns" over a Russia troop build-up near Ukraine that's now driving the new emerging crisis following an uptick in renewed clashes in the eastern Donbas region. 
On Thursday's German Chancellor Angela Merkel demanded that Russia immediately reduce its troops presence near the Ukrainian border, according to a German government statement. Merkel conveyed the demand in a phone call with Vladimir Putin.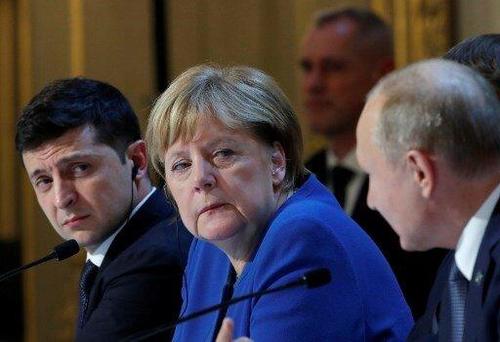 "Among other things, the conversation was about the strengthened Russian military presence in the environs of East Ukraine," the statement read. "The Chancellor demanded that this build-up be unwound in order to de-escalate the situation."
The Kremlin meanwhile says its troops are responding to a Ukrainian military build-up and provocative actions in the mainly Russian-speaking Donbass:
Russian President Vladimir Putin accused Ukraine of provocative action in eastern Ukraine that was inflaming the situation there during a phone call with German Chancellor Angela Merkel, the Kremlin said on Thursday.

In a readout of the call, the Kremlin said that both sides had voiced concerns about the situation in eastern Ukraine. 
Also on Thursday Kiev announced that Ukrainian President Volodymyr Zelensky will personally visit the eastern frontline where clashes with separatists are raging.
#BREAKING German Chancellor Merkel urged President Putin to reduce Russia's troop buildup near Ukraine border, her office says pic.twitter.com/3nDpb9dbg8

— AFP News Agency (@AFP) April 8, 2021
This symbolism alone is likely to lead to serious escalation, given he also this week urged NATO to put his country on the path to full-fledged NATO membership. "I want to be with our soldiers in the tough times in Donbas," Zelensky said. "Going to the locations of the escalation…. Ukraine needs peace and will do everything for this."
The death toll continues to rise: 
The Ukrainian military on Thursday announced that another of its soldiers had been killed, bringing to 25 the number of troops killed since the start of the year, compared with 50 in all of 2020.

Zelensky, who has appealed to Ukraine's Western allies for support, was due to visit positions where a ceasefire "has been systematically violated in recent days" and Ukrainian soldiers killed or wounded, the presidency said in a statement.
And meanwhile, more threats and counter-threats…
RUSSIA WILL BE FORCED TO DEFEND ITS CITIZENS IN EASTERN UKRAINE DEPENDING ON THE SCALE OF THE CONFLICT THERE – TASS CITES KREMLIN OFFICIAL

KREMLIN OFFICIAL KOZAK SAYS START OF MAJOR MILITARY ACTION IN EASTERN UKRAINE WOULD MARK THE BEGINNING OF THE END FOR UKRAINE – TASS
It seems if war is to be avoided a significant diplomatic avenue and breakthrough needs to be pursued – and fast.
Tyler Durden
Thu, 04/08/2021 – 10:10