The Best 12 Months Since 1936
By Jim Reid, chief credit strategist at Deutsche Bank
Today is the one-year anniversary of the pandemic lows in markets and the S&P 500 has now seen its largest 12-month gain since 1936, exceeding that seen in 2010 after the GFC.
The turnaround started 2 days after the Fed's momentous March 22, 2020 meeting where amongst other things they offered to buy corporate bonds for the first time in their history.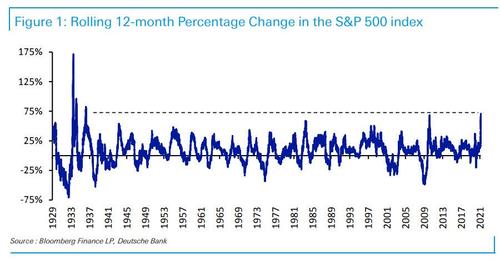 In our monthly survey, 40% scored the Fed an "A" and 38% scored them a "B" for their pandemic response. So high marks which market performance totally supports.
However it's fair to say that they'll be still dealing with the fall-out from Covid for years.
Have their actions helped create bubbles and future inflation? Have they helped main street enough? Have they helped perpetuate the debt super-cycle?
If they are still scoring As and Bs for their pandemic response in 3-5 years then that will be an even more remarkable achievement.
Tyler Durden
Tue, 03/23/2021 – 14:05